In the middle of the Edo period, there was a premium sake called "Nanatsu Ume" that was brewed in a place called Itami in the-then Sesshu region. At that time, when sweet-flavored, milky-white sake predominated, Nanatsu Ume was incredibly popular in Edo City as a dry-flavored delicious sake and it is often referred to as "Sake means Kenbishi, Otokoyama and Nanatsu Ume". During the Tempo period (1830-1844), it was loved as a sake of choice for mealtimes in the inner sanctum of the Edo Shogunate, and was equally loved among poets and writers, being depicted in the masterpieces of Hokusai Katsushika.
In the first year of the Kambun period (1661-1673), Itami became a fiefdom of the Konoe family, the primary family among the five regent houses of the Fujiwara aristocracy, and the sake brewing industry developed unrivalled. However, with the Shogunate's strict control of sake brewing and the rise of Nada sake, the sake brewing industry in Itami gradually declined.
Momenya, which was the brewery of Nanatsu Ume, has been closed down and has been handed down to Tanaka Tozaemon Shoten in Fukaya, Saitama. After more than 300 years, Hamafukutsuru, closely connected with the region of Itami where "Nanatsu Ume" originated, has inherited "Nanatsu Ume" as the rightful heir.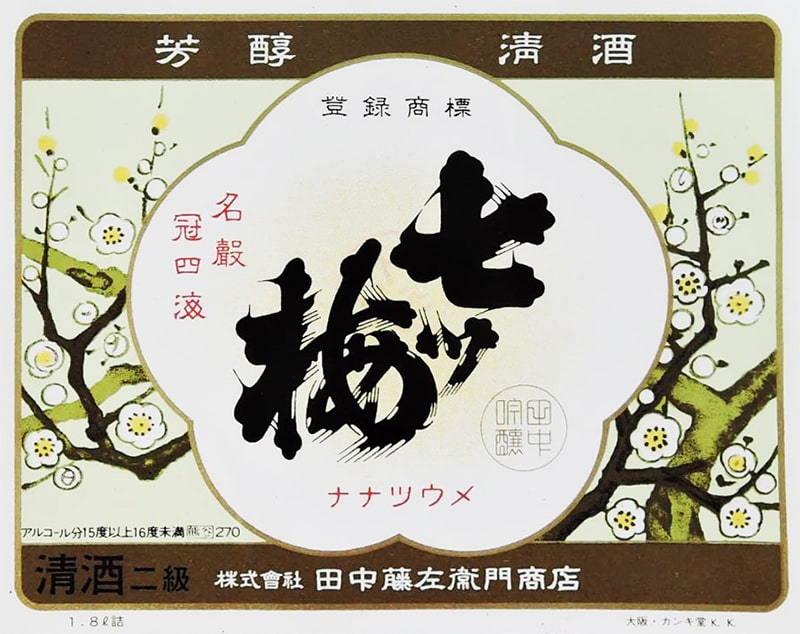 Label from the period of Tanaka Tozaemon Shoten
Saneatsu Mushanokoji, a famous novelist, was one of the frequent patrons of Nanatsu Ume. Saneatsu, one of the leading novelists of the Shirakaba literary coterie, was deeply interested in art from a young age, saying at around the age of 40 that "Beauty is what fulfills our inner life". He left a legacy of many works of art penned with his own brush. In our brewery, a poem entitled "Beautiful Flowers, Delicious Sake, Nanatsu Ume" and a masterpiece depicting plum blossoms painted by Saneatsu himself are preserved.
The name of Nanatsu Ume's sake derives from the time when the scent of plum blossoms was most pronounced at 7 o'clock in former times (currently around 4 am). ("Nanatsu" means 7.)
Nanatsu Ume was also sung in songs in olden times.
"Despite blooming deep in the valley, the fragrance of the plum blossoms at 7 o'clock in the morning, is known worldwide."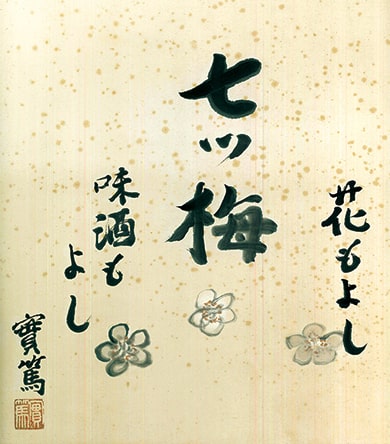 Painted by Saneatsu himself (preserved in our brewery)
We believe that "sake is meant to bring out the flavors of food and ingredients". "How to play a significant supporting role in the dining experience" is a constant theme for Nanatsu Ume.
We will continue to pursue brewing a sake that is loved by everyone while carefully protecting the natural blessings and traditions of our predecessors.